2020 Barometer of Open Science: 56% of French publications are in open access
News from the Committee
24/01/2021
The third Flash Note from the French Barometer of Open Science (BSO) has just been published by the Ministry of Higher Education, Research and Innovation. 56% of French publications in 2019 (measured in 2020) were in open access which corresponds to over 87,000 publications. This confirms the progress made in 2018 and the positive effects of the national open science policy.
This increase in open publications is also due to publications from recent years being released thanks to the expiry of publishers' mobile barriers. This corresponds to a 3-point increase in openness for 2017 publications following a 10-point increase in 2019 and 5 points for 2018 publications.
For the first time, the percentage of openness for last year's publications exceeds that of other years which reflects shorter delays in making them available in open access regardless of the method used.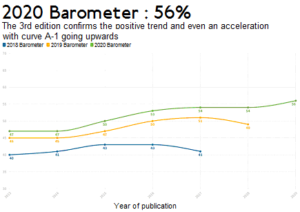 A marked disparity remains between disciplines in the proportion of open-access publishing and the methods used: mathematics leads with 74.9% of publications mainly in open archives followed by fundamental biology with 69% of open access using the two channels while the human sciences are 44.9% through access hosted by publishers.
These differences should not be allowed to obscure the fact that the increase in the spread of open access is observed in all disciplines despite disparities remaining strong.

The group of disciplines above the national average shows a markedly strong dynamic in biology, earth sciences/ecology and computer science.

The group of disciplines below the national average reveals markedly strong growth in medical research and chemistry and a weak dynamic remaining in the other disciplines.
The French Open Science Barometer was created as one of the commitments set out in the framework of the National Plan for Open Science. Its initial aim is to measure the proportion of open access to French scientific publications and its progression categorized by the type of access and by discipline. The objective for 2021 is to develop a barometer of open science in health in response to the important issues raised by the health crisis.
Localized versions of the barometer are being set up in institutions to measure the openness rate for their researchers' publications following the logic which developed from opening up the BSO code and methodology. The aim is to be capable of monitoring and comparing these results autonomously.
Read the MESRI press release.
The Barometer works solely with open sources and mainly Unpaywall. Only publications with a DOI are taken into account. The BSO is produced by the Sub-Directorate for Information Systems and Statistical Studies (SIES) at the Ministry of Higher Education, Research and Innovation.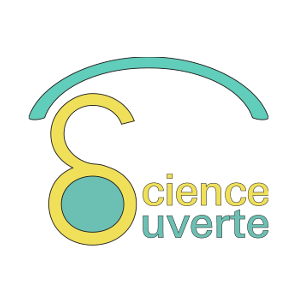 Next post
News from the Committee
23/01/2021
Article 30 of the Law for a Digital Republic and the forthcoming implementation of Plan S have increased the need for French publishers of scientific journals to precisely define their policies regarding the dissemination of articles published in their journals…