The National Fund for Open Science is providing international infrastructures with long-term support
News from the Committee
02/05/2023
The National Fund for Open Science (FNSO) is providing financial support to four international infrastructures selected by the Global Sustainability Coalition for Open Science Services (SCOSS) in the framework of its funding campaigns. France has thus renewed its commitment to sustainable international open science infrastructures following on from the support provided in 2020 and 2022.
The four infrastructures selected to receive FNSO funding are LA Referencia, the Research Organization Registry (ROR), OpenCitations and the Directory of Open Access Books (DOAB). They were first evaluated by the SCOSS jury then against the Committee for Open Science's  Principles and good practices which particularly guarantee transparency and the participation of scientific communities in the governance of infrastructures. The FNSO also took French involvement in the selected infrastructures into consideration and also the extent to which they are in line the National Plan for Open Science's strategic orientations. The overall financial support involved is €385,000.
LA Referencia and ROR each received €50,000 of funding in 2023 in the framework of the fourth SCOSS funding call.
OpenCitations and DOAB, will receive recurring funding in 2023, 2024 and 2025 amounting to €75,000 and €20,000 respectively. 
The National Fund for Open Science is the National Plan for Open Science's financial tool. It is allocated financing by the Ministry of Higher Education and Research and also receives voluntary contributions from higher education, research and innovation institutions.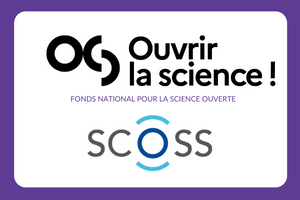 Next post

Research on Open Science practices and issues  The French National Research Agency (ANR) is launching a call for expressions of interest entitled 'Research on open science practices and issues' This call for expressions of interest invites researchers to engage in…