The Council of the European Union in favour of open science
Watch
08/09/2022
The Council's conclusions on research evaluation and the implementation of open science proposed by the French Presidency of the European Union were unanimously adopted by EU Member States at a meeting chaired by Sylvie Retailleau, the French Minister for Higher Education and Research
The Council's conclusions on research assessment and implementation of open science were negotiated by the Council of the European Union in its "competitiveness" format which brings together the Member States' ministers for trade, the economy, industry, research and innovation, and space. The conclusions were adopted unanimously and represent a strong political commitment by the Member States.
These conclusions call for a concerted effort by EU member states to reform research evaluation systems along the following lines – developing an evaluation method based on fewer quantitative elements and a more qualitative approach; recognising the diversity of scientific output rather than just publications; taking the diversity of career paths, ethics, integrity and gender equality into account; giving value to open science practices.
The Council stresses that researchers need to be closely involved in this reform and that national and disciplinary specificities should be fully taken into account. It also highlights the need for transparency on the criteria and data used in the evaluation processes, particularly regarding bibliographic databases used in this context which should be freely accessible in principle.
The Member States are also calling for scientific publication capacities in the European Union to be reinforced in coordination with all the private and public actors involved. They consider the health crisis to have highlighted all the benefits of open and immediate access to scientific publications. As they are concerned about the increase in the financial burden of publication costs, they call for greater transparency in and diversification of the business models for scientific publishing.
Finally, in its conclusions the Council recognises the value of multilingualism as a means of disseminating scientific knowledge to society, professionals, public and private organisations and citizens at large. It calls for researchers' current linguistic usage habits to be respected and for the possibilities of automatic translation technologies with post-editing to be explored to promote the diversification of languages for scientific communication.
These conclusions align with those set out in France's Second National Plan for Open Science launched in July 2021 and show EU support for France's open science policy defined and implemented in coordination with France's European partners.

Next post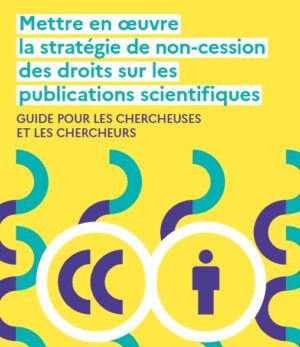 News from the Committee
08/09/2022
The Mettre en œuvre la stratégie de non-cession des droits sur les publications scientifiques (Implementing the rights retention strategy for scientific publications) guide is a tool for researchers developed by the Committee for Open Science's Publications College. This approach paves…